Merry Christmas !
Annual greetings from Champaign IL and our family -- me, Mike and Lucky (the cat, now age 9).
It's a typical December here -- cold, gray, wet -- but we're enjoying the most glorious winter ever thanks to our #1-ranked (right now) Fighting Illini basketball team. I go to every game and, like most of the town, I feel I'm committing a fashion faux pas if I appear in public wearing anything but bright orange. If this team doesn't win the national championship in April, look for Champaign to set a per-capita record for Prozac consumption.
In other sporting news, the Illini football team had another awful year (3-8), the Cubs broke my heart again, and the Bears are (sigh) the Bears. Bridge, however, continues to challenge and sometimes reward both of us. (Of course bridge is a sport!)
This year's bridge trips took us to tournaments in Reno, New York City and Orlando. In the strange-but-true department, I did not play a single hand of bridge in NYC. I spent four days gawking at skyscrapers, seeing shows and being a tourist while Mike played bridge (fairly well, as his team tied for third in their event). I'm sure I'd be totally intimidated by the city if I lived there, but it's exciting in small doses.
Other travels were a July trip to Las Vegas and short jaunts to the Halvorsen's lake cottage in Wisconsin and my family farm in Charleston. I continue working as a volunteer on the local cable commission, which sent me to San Francisco in September for a convention of TV nerds. I learned a lot of Technical Stuff, visited some bridge friends, took a (highly over-rated) ride on a cable car, and did the very cool tour of Alcatraz.
Annual wordy travelogue:
In late April, we "did" Scotland for our 25th anniversary tour (sounds like an aging rock band). We flew into Edinburgh -- pronounced Edinborough, else you're assumed to be a Yankee rube -- and stayed at a wonderful old hotel that was a bank in centuries past. Each of the seven rooms was decorated to honor a famous Scot. Ours was the James Watt room, with large models of steam-engine parts and early light bulbs hanging on every wall.
The hotel was right on the Royal Mile, a short walk from Princes Street Gardens, the massive Edinburgh Castle and many other interesting sites in the Old and New Towns. My favorite place was an old churchyard with the grave of Greyfriars Bobby, a little terrier who slept at his master's grave for 14 years in the 1800s. The story is so beautiful and sad that I tear up every time I think of it.
After three days in the city, we rented a car for a two-week tour of the Highlands and its spectacular scenery. We did a lot of driving in rural areas, through little villages with names like Killiecrankie and Yetts o' Muckhart, and down backroads that lead to lonely, well-preserved sites with prehistoric stone circles and burial mounds. We also enjoyed several long, sometimes wet, nature walks through glens with waterfalls, stone bridges and magnificent old trees.
One of the most beautiful and haunting areas was Glencoe, a mountain pass famous for a 1692 massacre of a large clan of MacSomebodies.
Another memorable site was Loch Ness, where we took the 70-mile scenic drive around the shore and toured Urquhart Castle. It was a cold, wet and windy day, and the water was churning with dark waves and eddies. We didn't see a monster, but the ruins and the loch itself are so spooky that I can believe the stories. As my guide book said:
"For 900 years, people have looked from this castle window, or ventured through the Water Gate to the shore below. Some have seen something …"
We loved almost everything about the Isle of Skye, one of the country's 787 islands. The notable exception was its controversial toll bridge, which has the dubious fame of being the world's most expensive ($9 one-way). The island is one big postcard of seaport villages, haunted castles and rugged hills and mountains, all bathed in an eerie northern light that makes every vista look like a painting. The sun set at 8:30 on the three nights we were there, but the sky was lit up until 10:30.
The highlight of our Skye stay was a sunny afternoon boat tour for an up-close-and-personal encounter with ocean seals and birds. I always love meeting a country's "livestock", as the photos show.
As usual, we tried to indoctrinate ourselves with the country's culture and history. We learned that the main religions are golf and whisky (never spelled whiskey, and never, ever called scotch). These are also the biggest industries, along with sheep and sales of anything plaid.
We tried a bit of golf at St. Andrews, where we hit a bucket of balls on the practice course, then visited the ruins of the castle and cathedral on the North Sea shore. Our whisky education came from tours of two distilleries -- Edradour, the world's smallest (three employees plus our kilted guide) and The Glenlivet, one of the biggest. Every tour offers a "wee dram" to warm you up at the end, plus the obligatory exit through the gift shop, where we bought a few bottles of single-malt to bring home.
The country's de facto saints are Mary Queen of Scots, Bonny Prince Charlie and Robert Burns. Close seconds are Robert the Bruce, William Wallace and a bunch of kings named James. Almost any pile of rubble qualifies as a shrine if any one of them ever lived, died or was imprisoned there.
Many other historical sites tell stories of the country's centuries of virtually constant warfare, mostly with each other. We visited old forts and preserved battlefields where I could almost see the ghosts of the kilted, bagpipe-toting warriors (and wondered if this might have had something to do with why they lost so often). We learned that although the Scots had plenty of trouble from Mike's ancestors (the Vikings), they take great pride in the fact that their Pict forebears were so nasty that the Romans never even tried to invade the country.
Kilts are still the traditional dress, and we saw quite a few men wearing them to work. My guidebook explained that the only "proper" way to wear a kilt is without underwear. Every time I saw a fat man in a skirt, I wished I'd never read that.
We learned a lot of geography, too, as successfully navigating the city and countryside required a whole new vocabulary. Our trips took us to, around and through closes, firths, kyles, bens, glens, moors, bogs, cairns and lots of lochs.
The people were very friendly and the Scottish cuisine is excellent (as long as you avoid the mutton). I booked several "last-minute" hotel packages that included breakfast and dinner. We don't usually make advance reservations, but I figured the more expenses we prepaid, the less painful the GBP exchange rate would be. The hotels served wonderful gourmet meals – lots of fresh seafood, nice wines and unusual dishes prepared with whisky sauces.
It took me a week to get up the nerve to order the national dish of haggis, and it was better than I expected. It tasted a little like spicy sausage, and I might have actually liked it if I hadn't known what was in it, which I won't share here.
We ended with a sunny afternoon at beautiful Loch Lomond, Scotland's largest loch, then drove south to Manchester to spend our 25th anniversary (May 5) on the plane back to Chicago. Hard to believe it's been that long, as I still feel as young and stupid as I did in my 20's.
I hope you all have a wonderful holiday and the best year ever in 2005. Go Illini.
-- Karen & Mike
Champaign IL, December 2004

Scotland: Greyfriars Bobby, Edinburgh

Mountain pass through Glencoe

Urquhart Castle on Loch Ness

Skye toll bridge

Seals at Dunvegan Castle, Skye

Highland cow on Skye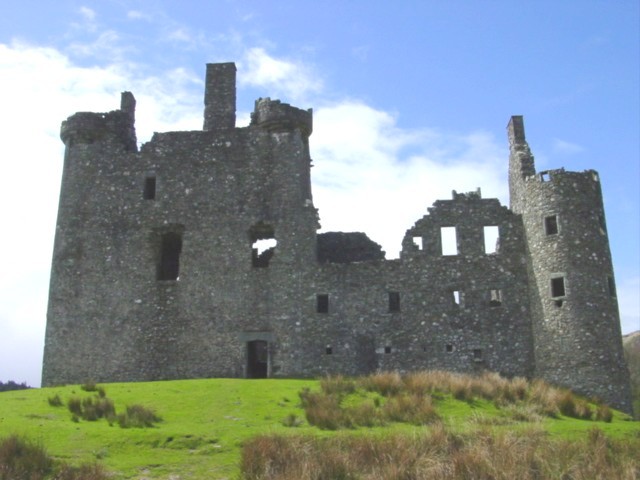 Kilchurn Castle on Loch Awe

Kilchurn Castle residents

Loch Lomond