Merry Christmas !
Greetings from Central Illinois, where the sun has not shone since Game 6 of the Cubs-Marlins series. I used to laugh at the tales of mysterious curses, but I am now a True Believer. And yes, no matter how unreasonable I know it to be, I believe Steve Bartman should be run out of the Midwest.
The day the Cubs won the division, I was in the stands at the Wisconsin vs. Frightening Illini football game. The guy behind me was glued to his radio, and when he yelled "Cubs win!", I was so overcome by the thought of my late dad, the world's most loyal and long-suffering Cub fan, and how much he would have loved this, that I broke out into tears. The guy next to me tried to console me with the speculation that the Illini still had time to score three touchdowns and win the game. It's true that Illini football was awful (1-11 … yikes), but it was roll-your-eyes awful, not sobbing awful. Only the Cubs could make me cry like that.
Other than my despair over the outcomes of meaningless sporting events, our family -- me, Mike, Lucky (the cat, now 8 years old) -- are happy and healthy. I'm still teaching online for Parkland College, doing free-lance writing and keeping busy with several high-paying (ahem) bridge jobs. Mike is still painting houses, recycling junk, managing a few rental properties and running the bridge club with me.
The best thing about winter in this town is Illini basketball. The New York Times picked Illinois for the Final Four, so I figure we're jinxed for that, but the team is great fun. It's super-fast, high-energy play for the full 40 minutes. The exhausted referees have been asking our coach if his guys have another speed.
Our travels this year took us to Ixtapa for our annual week on the beach and to national bridge tournaments in Philadelphia PA and Long Beach CA. We took a side trip from Philadelphia to New York City to spend a day with Mike's old Army buddy. He and his wife own a car service and gave us the grand tour, which, of course, included the World Trade Center site. Growing up surrounded by corn and soybean fields, I have a pretty good idea of how big 16 acres is, but I was stunned by how massive it looks in the middle of a city.
We also spent a week at Mike's family's lake cottage in central Wisconsin, highlighted by a night at the Outagamie County Fair to see Meat Loaf in the outdoor grandstand. If I have a "rock idol", it's him, and this was two hours of rock-and-roll bliss. I stood about 50 feet from the stage, surrounded by old hippies in Packers and Badgers t-shirts, and enjoyed heart-pounding music, cheap beer, perfect weather (always a surprise in Wisconsin, even in July), a gorgeous sunset and spectacular fireworks.
Warning: Wordy travelogue ahead …
The big trip was 17 days in Ireland in late April. We arrived in Dublin on Good Friday, the only day of the year when all pubs are closed -- sort of a national day of mourning, to hear the locals talk. That night, we played in a team game at the Regent Bridge Club. The people were very friendly and shared their BYO beer and wine, offering profuse apologies because the club bar was closed. The bridge was quite good (there were a few Irish internationalists in the game) and we were teamed up with a good pair (Lily and Rose, in the photo). Our team placed second, winning 10 Euros each.
After three days in Dublin, we rented a diesel VW and headed south and west. The driving was sometimes exciting, as their idea of a two-lane road is the width of a car and a bicycle, with old stone fences and barns hugging the shoulders. That made the traveling slow, but that was okay, as virtually every mile is postcard material.
The country must have the world's most gorgeous and varied landscapes – mountains, giant cliffs, waterfalls, white-sand beaches, lowland bogs, pristine lakes and even a "real" fjord. Everything was truly green, green, green, and every county had plenty of my favorite sights (rolling fields with grazing dairy cows). The photo is the view from the top of "The Vee", a pass through the Knockmealdown Mountains.
Some of our favorite outings were a trip to Mizen Head (Ireland's "Land's End"), a ferry and pony-trap tour of Inis Mor (one of the Aran Islands), the scenic drives around the Ring of Kerry and Dingle Peninsula, and tours of Knowth and Newgrange (passage tombs older than the Pyramids). We attempted the 7-mile hike through the beautiful Gap of Dunloe, but made it only halfway when a heavy rain began. We were rescued by Mary (Mayree) and her pony cart, which gave us a bumpy ride back to our car. We learned why this type of carriage is called a "jaunting cart". It's an apt description of the ride and the price.
We also enjoyed exploring the 550-year-old Blarney Castle and the surrounding Rock Close, an eerie forest of ancient trees, caves and druidic worship sites. I did kiss the castle's Blarney Stone – an act of great courage and stupidity, as it was just days after the announcement of Ireland's first SARS case. It seemed like one of those things that tourists just have to do, and I was drawn to its promise of the gift of gab.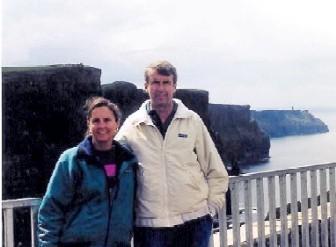 The strangest terrain was a 100-square-mile area called The Burren, where the ground is a solid limestone that looks like lunar lavarock. Grass and wildflowers grow right through the rock and cows graze on it. The photo is at the 700-foot-high Cliffs of Moher, just a few minutes after we were pelted by a brief hail storm. I don't know what country has original claim to the old saying, "If you don't like the weather, wait 10 minutes", but it ought to be Ireland.
We stayed at bed-and-breakfasts in villages and on working farms and met "loovely" (their favorite word) people. The brogue is quite thick in the west and Gaelic/Irish is still spoken in a few areas, so we sometimes had a difficult time understanding our hosts.
The Irish nightlife revolves around pubs, and we made it a point to soak up that aspect of the culture. Even the tiniest towns have several pubs (Dingle Town, population 1200, has 52!), all occupied by grizzled old guys named Padraig and Seamus who have been sitting on the same bar stools for five decades. Some pubs have bands and singers in the evenings, and we became big fans of the Irish folk music. Neither of us developed a taste for the national drink (Guinness Stout), but we liked the lighter Smithwicks brand (which must be pronounced "Smitticks" or the bartender will respond, "Loovely, but dunno that'n").
The only negative was the Euro exchange rate, which was hitting new highs every day. Prices were fairly reasonable, though, especially in the rural areas. Every b&b serves a gutbomb Irish breakfast (eggs, smoked salmon, sausage, "rashers" and some mystery meats), so we rarely felt the need to spend any money on lunches.
We were especially intrigued by the island's history. The countryside is full of ancient castles, monasteries, stone circles and ringforts, many dating back to pre-historic times. The photo is the Rock of Cashel, a Medieval fortress in County Tipperary.
The more recent history is fascinating, too. In the remote areas, the preserved "famine houses" tell heart-breaking stories of the families who had to abandon them more than 150 years ago. In Dublin, we experienced numerous "I did not know that!" moments during visits to the national museum and the main post office, which is a shrine to the 1916 Easter Uprising (why don't U.S. schools ever teach this stuff?). It's difficult to sort out what started all the different rebellions and revolutions, but I learned enough to understand why their ballads are so sad and why they seem to like Americans better than the British.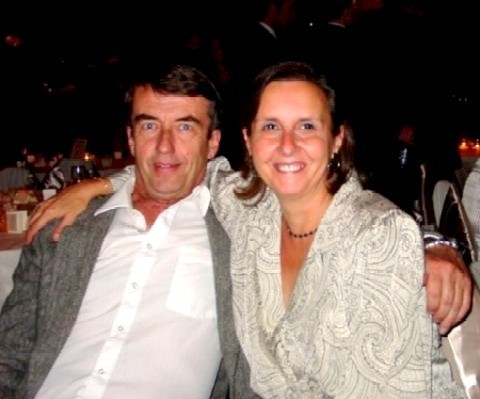 Well … that Blarney Stone thing obviously worked :)
If you're still reading, I hope you all have a loovely holiday and that 2004 is the best year ever. Go Cubs.
-- Karen & Mike
Champaign IL, December 2003