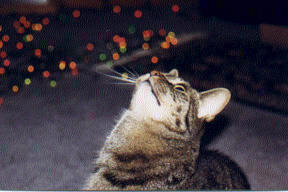 Merry Christmas!
Annual greetings from Champaign, where we're in Sports Heaven with Illini basketball in the top ten, Illini football in the Sugar Bowl, the Bears in the playoffs and even the Cubs acting like contenders (doing their swoon a little later than usual this year).
Other than that shallow, temporary excitement, things are about the same here. Lucky (transfixed by Xmas lights in the photo) is six and a constant source of joy; he still acts like a kitten. I'm still teaching English and advertising at Parkland (all taught on the Internet) and doing free-lance writing (mostly soybean propaganda). Mike finally got rid of the revolving assortment of hillbillies and felons who populated his painting crews and now employs a good group of 3-5 "protective coating application specialists". His first love is still recycling -- metals, paper, plastic, mystery waste -- for which he's developed local fame (total strangers call and ask him to haul their stuff). I told him that all I wanted for Christmas was to be able to see a few square feet of our garage floor, but I'm not counting on that.
I continue to "work" at bridge, too -- writing articles, teaching lessons, running the local club, plus some professional play. None of it could be called "gainful" employment, but it's more stimulating than my other work and I'm convinced that it's the secret to keeping my neurons firing in my impending old age. Bridge has also rewarded us with free trips to national tournaments in Kansas City last March and Toronto in July, and to Houston this spring.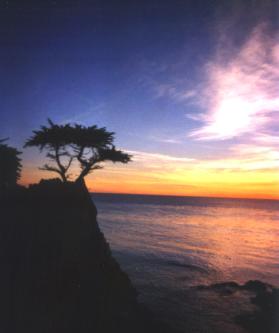 In November, we went to a tournament in Las Vegas and drove on to Monterey CA on the Sunday after Thanksgiving to visit Mike's brother. Naive farm girl that I am, it never occurred to me that an 8-lane interstate through an unpopulated desert could be bumper-to-bumper for 250 miles. Every soul in California must have been in Vegas for the holiday. Other than that leisurely, 15-hour drive -- and the cold weather ("sunny California" and "hot Las Vegas" are two Midwestern perceptions of which I have been disabused) -- it was a great vacation. The Seventeen Mile Drive in Carmel (with its Lone Cypress, in the photo) is one of my favorite places on the planet.
Our big vacation was 3 1/2 weeks in England, Wales and Paris in April. Our timing was lousy, as we arrived at the height of the foot-and-mouth crisis. Stonehenge and a few other rural sites were closed, but the bonuses were that there were no big crowds and we got especially warm welcomes from innkeepers who were desperate for tourists.
Mike did all the driving and had no trouble adapting to the left-hand stick shift, even on a busy airport freeway after an overnight flight. He quickly learned to negotiate roundabouts at top speed, just like the local madmen, and he inadvertently played chicken with the British drivers only once the whole time. We traveled a lot of backroads, many of them so narrow that we had to fold in the car's side mirrors to pass. Unlike our pinhead developers in the U.S., the Europeans aren't anxious to tear down old buildings. If they need a road, they squeeze it through the existing stone fences and barns.
Everywhere we went, I was awed by the sheer oldness of everything. We started in the Cotswolds, where we got a giant dose of quaint -- not usually our "thing", but this was authentic quaint. We stayed in a centuries-old inn ("Charles I slept here!") and visited Stratford-on-Avon, Blenheim Palace (the Churchill shack), Medieval castles and tiny villages with thatched-roof houses ... all with the background music of constant baahing. What cows are to Switzerland, sheep are to England!
We toured the ancient Roman baths in Bath, then drove south to Plymouth to see our friends Toby and Kasia Strite, who live near Pilgrim's Gate. That was one of the few places were we saw any mention of the English colonization of the U.S. Throughout the country, there are historical sites and statues commemorating every war the British ever fought (and there were a lot of them!), but they seem to still be a bit touchy about the 1776 thing.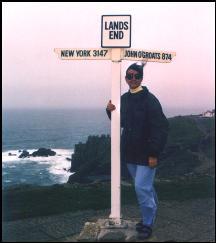 While in Plymouth, we took day trips to fishing villages in Devon and Cornwall and a spectacular coastal drive to blustery Lands End (hanging on for dear life to the famous sign for the photo). The most beautiful, eerie area was Dartmoor National Park -- thousands of miles of open moors, ancient towns and cathedrals, wild ponies and, of course, sheep, with which we had some close encounters. The park has no fences, so they graze right on the road. When my brother-in-law saw my sheep photos, he was sure I was an f&m carrier and banned me from my family farm.
During a stay in Cheddar (home of the cheese), Mike developed a bad case of walking pneumonia, which was cured courtesy of the British taxpayers. We thought we'd have to drive to a bigger city to find a doctor, but that tiny town had a clinic with four surgeons (their term for doctors), an acupuncturist, an herbalist, and a packed waiting room of little old ladies with hangnails. Mike's "surgery" and nebulizer treatment were free, and the local "chemist" filled three prescriptions for $27. Socialized medicine has its benefits.
We ambled fairly aimlessly through Wales (beaches, wilderness, great pubs and really ancient castles) and spent Easter weekend in Derbyshire (gorgeous scenery, caves, more moors). Then it was a week in London, which was quite a contrast after the quiet countryside. It has to be the second greatest city in the world. We loved the "tube", pubs, museums, parks, shows ... everything but the traffic! We drove into the city only to drop off the car, and that was harrowing.
In the city, the history lessons centered on kings and queens and WWII. I almost dislocated my jaw when we stepped out of the Westminster tube station and saw the Thames, Houses of Parliament, Big Ben and Westminster Abbey, all in one view.
The changing of the guard at Buckingham Palace was quite a spectacle, too. I thought it would be hokey, but it was very moving. Seeing the Rosetta Stone at the British Museum was another jaw-dropper. We also loved the theaters -- we bought half-price tickets almost every day and saw some great shows. The photo is at the Tower of London (prison cells, execution sites, Crown Jewels, flightless ravens).
My favorite tour was the Cabinet War Rooms, the underground bunker where Churchill ran the war. It's been preserved exactly as it was in 1945, right down to the paper clips on clerks' desks and the quilts in Churchill's sleeping room. It left me with a feeling of what life was like in London during the Blitz.
We also liked the British Library, where we saw the Magna Carta, Gutenberg Bibles, daVinci's notebooks and handwritten Beatles lyrics, all in one large room. The photo is "Sitting on History", a bench sculpture in the lobby. Mike said we should have had someone take this picture with him standing in the ring. (Ha ha).
The beauty of the country and the friendliness of its people made me wonder why my ancestors ever left the place 300 years ago (religious zealots make strange choices!). On the downside, the weather is lousy, "petrol" was over $5/gallon, there's nothing on TV, and almost everything they say about English cuisine is true. Mutton was the main entree, served with warm beer, salads without dressing and "jacket" potatoes without butter. We did, however, love "cream tea" and their gutbomb national dish of fish and chips.
We flew to Paris for the last four days. We did "rerun" visits to our favorite spots and saw some we'd missed on previous trips (the Musee d'Orsay and Sacre Coeur de Montmartre, where we couldn't find the funicular, so we climbed the thousands of steep, lanterned steps). What we like most, though, is just walking through the neighborhoods and stopping at little cafes, churches, parks and squares. The French government has instituted a new "be-nice-to-tourists" campaign, and there were some noticeable differences since our last trip. I especially enjoyed practicing my high-school French on frustrated waiters who had been ordered to comply with the government dictum.
A Chicago radio station is having a contest for "Most Boring Christmas Letter". If one of your local stations is doing the same, you may be holding the winner right now! My travelogue went way too long, but if you're still reading, I hope you're having a wonderful holiday and 2002, and that we'll see you soon.
-- Karen & Mike
Champaign IL, December 2002