Our "tour de France" -- April 16-May 5, 2006 (page 2 of 3)
---
| | | |
| --- | --- | --- |
| Beynac village and castle | Beynac: Residence Versailles | Beynac: View from our terrace |
Dordogne valley (April 24-26): Our b&b for the next three nights was the Residence Versailles, perched near the top of Beynac, a village built into a cliff overlooking the Dordogne River. A car any bigger than our Renault Clio wouldn't have made it up the steep, narrow road. That temporary terror was forgotten when we saw our room and its terrace view of five castles.
Once we had summoned up enough courage to try the road again, we went down into town for a wonderful dinner on the outdoor patio of Cafe de la Riviere, with a great view of the river.
The next day was market day in nearby Cenac, so we started there. Market days are big deals throughout rural France -- just about every village has a weekly event with stands selling flowers, antiques, handmade crafts and the typical tchotchke, plus fresh produce and other food.
| | |
| --- | --- |
| Cenac: Readying for a canoe trip down the Dordogne | Castelnaud: View from our canoe |
Later that morning, we rented a canoe in Cenac for a 9-kilometer trip down the Dordogne. The scenery was spectacular, but the river was high and very fast, so it was only about a two-hour trip. Midway, we stopped in Castelnaud for coffee and a view of its cliff-top castle.

Sarlat old city sights


La Roque de Gageac: Troglodyte dwellings in the
cliffs above the town
We drove on to Sarlat, a walled medieval city that boasts more historic monuments per square kilometer than any place in Europe. Any "knight in shining armor" movie you've ever seen was probably filmed here. We spent the rest of the afternoon wandering its narrow lanes and exploring the cathedral and stone-roofed buildings, some more than 800 years old.
On the way back to our aerie home in Beynac, we stopped in La Roque de Gageac, which we had passed on the canoe trip. Another claimer of the "most beautiful" title, the village is built into a cliff with many prehistoric troglodyte dwellings. We climbed a few hundred steps for a closer look at the caves -- it was a few hundred more to take a tour, but my thighs were screaming Non!, so we just enjoyed the view.

Beynac Castle


Beynac: Le chat at the castle


Le Grotte de Pech Merle: 20,000-year-old
cave painting and handprints.
Finding dinner was a challenge, as three of Beynac's restaurants were closed and we had been warned to avoid the fourth one. The first one we tried was at the top of the town, near the castle, which was also closed for the evening. We walked around the deserted castle grounds and surrounding streets as the sun set, then drove out into the country to find a restaurant.
Our third day in the Dordogne began with a drive to Le Grotte de Pech Merle, one of the many prehistoric caves in the area. The tour was in French, but we had an English brochure and our guide, who had plenty of wine with his lunch, spoke in a slow slur, so I got most of it. The underground sights were spectacular -- animal bones, human footprints and handprints, and amazingly detailed cave paintings that were 10,000 to 25,000 years old.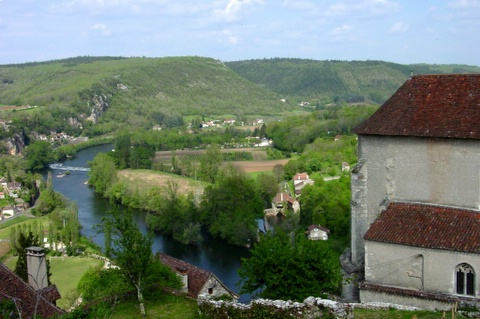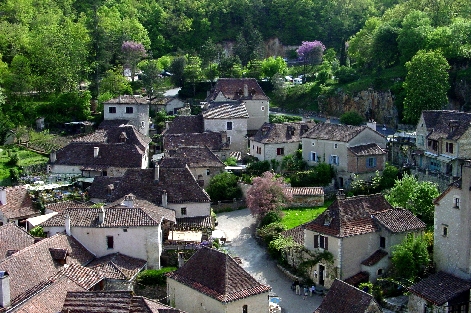 St. Cirque Lapopie & Lot River
A few miles from the caves, we found our choice for the winner of the "most beautiful" contest: St. Cirque Lapopie, a clifftop village overlooking the Lot River. The visit required lots more uphill hiking, then we climbed to the top of the big granite rock (left photo) for the views. I felt like I had just scaled Everest, but was put to shame by a cane-wielding elderly lady who passed me on the steps.
Dinner was pizza and local wine back in La Roque de Gageac. French chefs aren't famous for pizza, but based on the few we tried, they should be. Their secret, of course, is the cheese. Their bread-baking skills must have something to do with it, too.
The once-scary drive up to our Beynac b&b was now routine, although Mike did hit a mailbox making the sharp turn into the driveway on our last night here. We were wishing we could stay longer -- we were both bowled over by the natural beauty and history and untouristy towns of the Dordogne and Lot countrysides. It was the least-expensive area we visited, and the only hotel where we were served a "non-Continental" breakfast. Most French inns offer just coffee and pastries, but our hostess, Francoise, served a full English-style breakfast every day, with homemade everything.
| | |
| --- | --- |
| Albi & St. Cecile Cathedral | Carcassonne: Ramparts and entrance |
Languedoc-Roussillon (April 27 & 28): We put a lot of miles on the car today and set a personal-best (worst) record for getting lost. Our first stop was the red-roofed town of Albi. Its cathedral, built in the 13th through 15th centuries, is the largest brick building in the world. I got a stiff neck viewing the magnificent ceiling frescoes and arches inside.
A confusing system of ring roads kept us in/around Albi for far longer than we had planned. We finally found an exit and drove on to Carcassonne on the River Aude. Finding La Cite, the ancient walled city, should have been easy -- we could see it towering over the town, but it was a you-can't-get-there-from-here problem. Get there we did, however, after an extended tour of the town's streets and alleys.
Inside La Cite are a labyrinth of medieval lanes, a Gothic cathedral and a gazillion tourist traps. The city was going to see a more modern version of mortal combat if one more kid swung at me with the plastic sword his irresponsible parents had bought him, so we escaped to the ramparts. It was the prettiest and most interesting part of the old city, with a double ring of fortified walls, towers and a dry moat dating back to the 4th century.
Carcassonne was as difficult to exit as Albi, but we were about to become even more disoriented in Caunes-Minervois, where we were staying for the night. The Hotel d'Alibert was hidden in a maze of medieval streets that a bicyclist would find claustrophobic, and we drove down every single one of them before we found it. That's the entrance in the photo at right, and that's a street for cars, not pedestrians.
Once inside the hotel, we were transported back into the 16th century. The building is a former abbey with stone walls and floors, sloped stone steps and ornate wall carvings. The hotel has a locally famous restaurant, where the chef's specialties are tete de veau (head of veal) and cassoulet. We made the obvious choice, the innkeeper (Frederic) chose the wine, and we had one of the best dinners of our trip.

| | | |
| --- | --- | --- |
| Nimes: Maison Carree, built in 19 BC | Pont du Gard aqueduct | View of Gardon River from Pont du Gard |
The next morning, we drove east to Nimes, a city famous for Roman sites and blue jeans (the word denim came from the cloth called serge de Nimes). There are no monuments to Levi Strauss here, but the city is full of spectacular Roman ruins. Right in the center are the original Roman temple (Maison Carree) and an amphitheatre. A temple and other ruins are in the beautiful Jardins de la Fontaine, a garden built by Romans to make holy water from a year-round spring.
The Nimes amphitheatre is so well preserved that it's still used for concerts and bullfights. The French seem to think their bullfights are more civilized than the Spanish, as they usually don't kill the bull (except, for some reason, on Easter Sunday). Instead, the testosteronos (my choice for a more appropriate spelling of toreros) just torment it for screaming crowds who try to make the poor thing even angrier. Oui, trés civilisé.
A little north of Nimes is the Pont du Gard, the only remaining section of a 31-mile long Roman aqueduct that supplied the city with up to 44 million gallons of water a day. Built in 19 BC, it's an engineering marvel of massive, perfectly fitted stones with no mortar.
The drive to our hotel in Gordes involved navigating a highway around the fairly large city of Avignon. In Albi and Carcassonne, we couldn't get off the ring roads; here, we couldn't stay on them. We spent so much time doing loops in the Avignon city center that I never wanted to see the town again, and I declared it officially off my sightseeing list.
To Page 3 -- Provence & final ramblings
Back to Page 1 -- Normandy & The Loire Valley